Miroslav Hajda - Personal Homepage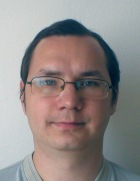 Welcome stray wanderer!
Website is under development! (From 24.3.2020)
Latest news:
There is no post yet.
Show all news.
Latest blog post:
With the new year, new news :-)
Posted on Friday 16th of January 2009 07:06:04 PM
After a long time I visited my own homepage and it seems to be appropriate to update it a little bit soon. Other news for example is that I bought a new keyboard ;-)
See all blog posts.
Latest visitor's comment:
Comment from: romeoo28@seznam.cz on Sunday 5th of March 2006 04:44:31 AM
suprr
See all comments or add new comment.
© Miroslav Hajda 2020 | Version 4.2 | Hosted on zdechov.net | Source